You are viewing the Ohaus weighing news at Golden Lotus Measuring equipment [can dien tu hoa sen vang]

Renowned Beverage Company Relies on OHAUS to Test New Products
7/15/2019
Find out how Slovakian beverage producer, McCarter uses our MB120 Moisture Analyzer to maintain the quality of their beverage products.
Today's consumer has more choices than ever when it comes to beverages. In recent years,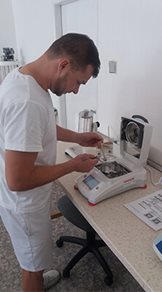 the market has exploded with healthy alternatives to soda. Juices, teas and plant-based milks are fortified with new and exciting flavors and nutrients to attract a young market that is increasingly health conscious. At the forefront of this movement is the Slovakian beverage producer, McCarter.
Founded in 1997, this innovative and award-winning company includes such recognizable beverage brands as Body&Future, Rio Fresh, Rio Fusion, Zeus and V12. McCarter exports these products throughout Eastern Europe and also serves as an importer and distributor of Jana mineral water and Kraš sweets from Croatia, Teekanne teas from Germany, and AriZona teas from the U.S.
Bạn mong muốn tìm kiếm cân công nghiệp chính hãng chất lượng cao hay cân điện tử giá rẻ, hãy cho Hoa sen vàng biết và nhận sự tư vấn nhiệt tình-chu đáo, sản phẩm đều có giá trị và đặc tính riêng của chúng … hãy Gọi ngay : 028 3511 7799 (kinh doanh) hoặc truy cập website: https://hoasenvang.com.vn/shops/ (sản phẩm)
McCarter is known as an innovative and progressive brand, with novelty beverages enhanced with fruit chunks, proteins, basil, chia and flax seeds. Continually pushing the envelope of what is possible, To stay a step ahead of the competition and keep up with their customers' evolving tastes, McCarter is continually testing out the viability of new beverages. To accurately formulate these beverages and run quality control tests, McCarter settles for no less than the most advanced and reliable laboratory equipment.
McCarter was already fam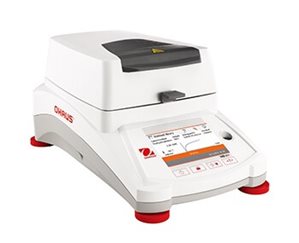 iliar with OHAUS as their precision balances were already a staple in their labs. When it came time to add a reliable moisture analyzer to the lab, McCarter again turned to the company they've come to trust – OHAUS. McCarter needed equipment for quick and accurate moisture determination and discovered that the OHAUS MB120 Moisture Analyzer would meet their needs with reliability and precision.
"The tests that we performed with theMB120unit OHAUS provided us for a two-week testing period proved that it is perfect for our product range thanks to the four different heating profiles," said Karol Malík, Head of Laboratory at McCarter. McCarter was extremely impressed with the accuracy and repeatability of the MB120. Ideal for quick and precise moisture content determination in the food industry, the MB120 allows the manufacturer to react promptly to the demands of the entire production.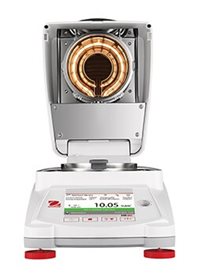 The MB120 delivers a level of functionality and precision McCarter can rely on, and it is easy to operate and clean. Advanced features such as a temperature guide help to establish the optimum drying temperature, and methods and results storage allow for statistical analysis of measurements. The MB120 can store up to 100 drying methods for easy recall and up to 1000 results for statistical analysis. Its precisely-controlled halogen heating dries samples uniformly, producing repeatable results to 0.01% readability.
"The methods library, the different heating profiles and the very quick, accurate results – usually within 15-20 minutes, while the reference method took at least four to six hours – have all changed the game , for us," said Malík. "From now on, the new MB120 is going to be used as our primary quick moisture analyser for both intermediate and final product checks."
Learn more about MB120 Moisture Analyzer
Download the Moisture Guide Here
Watch the video Here
✨The latest news at Blog.hoasenvang.com.vn, #candientuohaus #hoasenvang #ohaus #oahusscales #ohausweighing news on high precision products and most weighing scales devices, Can dien tu Ohaus all free news and non-profit, Yes.. All purpose serving you is my pleasure. Headquartered in Parsippany, NJ, OHAUS Corporation manufactures an extensive line of weighing scales, lab equipment and lab instruments that meet the weighing, sample processing and measurement needs of multiple industries. We are a global leader in the laboratory, industrial and education markets, as well as a host of specialty markets, including the food preparation, pharmacy and jewelry industries. An ISO 9001:2008 manufacturer, OHAUS lab balances, industrial scales, lab equipment and lab instruments are precise, reliable and affordable, and backed by industry-leading customer support.

Renowned Beverage Company Relies on OHAUS to Test New Products

? [High quality Ads] Can dien tu Ohaus chinh xac GLS at With genuine products and prices at the edge of the page, YEAH you will be satisfied Cân xe tải xách tay Hoa sen vàng – Golden Lotus Measuring Equipment, weighing scales news, electronic scale news, load cell news, retail scale news, industrial scale news, …
* Thiết bị hiển thị đo lường
Hello there !