You are viewing the Ohaus weighing news at Golden Lotus Measuring equipment [can dien tu hoa sen vang]

The OHAUS Explorer Series Balances are Now Available with EX2.20 Software Upgrade
4/16/2020
Unmatched Intelligent Performance with the EX2.20 Update
EX2.20
offer unmatched functionality in a line of high-performance balances that are extremely accurate, durable, and ideal for laboratory environments.
The enhanced user management system, data recording and accountability, expanded support for RFID readers, and new application modes guarantees that the Explorer Series Balances can record and store more relevant data and expand their functionality in your laboratory or industrial setting.
Bạn mong muốn tìm kiếm cân công nghiệp chính hãng chất lượng cao hay cân điện tử giá rẻ, hãy cho Hoa sen vàng biết và nhận sự tư vấn nhiệt tình-chu đáo, sản phẩm đều có giá trị và đặc tính riêng của chúng … hãy Gọi ngay : 028 3511 7799 (kinh doanh) hoặc truy cập website: https://hoasenvang.com.vn/shops/ (sản phẩm)
Simplified User Mana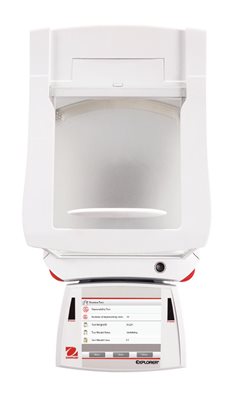 gement
The Explorer Series Balances now feature an enhanced User Management system allowing users to be assigned to 1 of 4 pre-existing groups with varying access rights; create over 110 accounts with admin configurable password protection.
Enhanced Data Recording and Accountability
Explorer balances are now equipped with an expanded system log that will record changes to the balance settings, calibration adjustments and printed results, user access data, GMP/GLP data fields, export of the log as a PDF file and saved to a USB flash drive, and the ability to store up to 5000 events.
Expanded Functionality
Featuring support for the UE-600 GIGATEK RFID reader, an Integrated Repeatability Test including a guide to help determine a Minimum Weight, and a new Fill Weight Variation application mode, Explorer Series Balances can record and store more relevant data to expand their functionality and applications in your laboratory or industrial setting.
Learn More About Explorer Series Balances with EX2.20

Explorer Semi-Micro, Explorer Analytical, Explorer Precision, and Explorer Precision High Capacity.
Simplifying complex laboratory measurements, offering more comprehensive application modes, and enhanced data recording and accountability – the OHAUS Explorer Series with
✨The latest news at Blog.hoasenvang.com.vn, #candientuohaus #hoasenvang #ohaus #oahusscales #ohausweighing news on accuracy equipment physics and other weighing machine devices, Can dien tu Ohaus all free news and non-profit, Yes.. All purpose serving you is my pleasure. Headquartered in Parsippany, NJ, OHAUS Corporation manufactures an extensive line of weighing scales, lab equipment and lab instruments that meet the weighing, sample processing and measurement needs of multiple industries. We are a global leader in the laboratory, industrial and education markets, as well as a host of specialty markets, including the food preparation, pharmacy and jewelry industries. An ISO 9001:2008 manufacturer, OHAUS lab balances, industrial scales, lab equipment and lab instruments are precise, reliable and affordable, and backed by industry-leading customer support.

The OHAUS Explorer Series Balances are Now Available with EX2.20 Software Upgrade

? [High quality Ads] Hoa sen vang phan phoi Ohaus chinh xac GLS at With genuine products and prices at the edge of the page, YEAH you will be satisfied Cân công nghiệp Hoa sen vàng – Golden Lotus Measuring Equipment, weighing scales news, electronic scale news, load cell news, retail scale news, industrial scale news, …
* Thiết bị hiển thị đo lường
Hello there !