You are viewing the Ohaus weighing news at Golden Lotus Measuring equipment [can dien tu hoa sen vang]

OHAUS Compass™ – A Portable Scale with Impressive Battery Life
7/6/2020
OHAUS Compass™ – A Portable Scale with Impressive Battery Life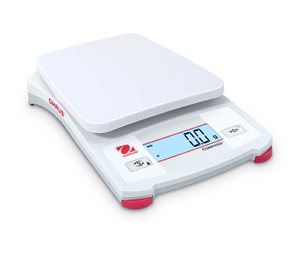 For precision portable weighing, you need a digital balance that is lightweight and easily transportable with a sleek, stackable design that makes it easy to store. But you don't want to sacrifice precision or durability and you want something that's simple to operate. To meet all of these requirements and more, OHAUS offers an economical digital balance that runs efficiently on AA batteries. Meet the OHAUS Compass, an energy-efficient, compact weighing solution that's built to last.
For a wide range of workplace and field weighing applications, the Compass series from OHAUS offers a variety of models to suit your specific weighing needs. Compass portable balances offer reliable performance, durable construction, and ease of use at a practical price.
Bạn mong muốn tìm kiếm cân công nghiệp chính hãng chất lượng cao hay cân điện tử giá rẻ, hãy cho Hoa sen vàng biết và nhận sự tư vấn nhiệt tình-chu đáo, sản phẩm đều có giá trị và đặc tính riêng của chúng … hãy Gọi ngay : 028 3511 7799 (kinh doanh) hoặc truy cập website: https://hoasenvang.com.vn/shops/ (sản phẩm)
Featuring a slim, stackable, and light-weight design, Compass balances fit ideally in lab, industrial, educational, and even household settings. The space-saving design allows for easy stacking of up to four units, making Compass great for portability and storage. Compass balances are built to last with durable features like ABS housing, slip-resistant feet, stability indicator, mechanical and software overload/underload protection, low battery indicator, and auto shut-off.
The entry level Compass CR series provides basic weighing functionality and competitive performance at an economical price. The lightweight, portable CR can operate for up to 300 hours on standard AA alkaline batteries.* It has a simple two-button design for easy operation and features a slim, stackable design for space saving storage, making it perfect for a variety of portable weighing applications.
The Best Choice for Portable Weighing
For more advanced portable weighing applications, the Compass CX series offers all of the above features and more. The CX includes a large backlit LCD display to enable easy viewing of weighing results, even at a distance or in low-light conditions. It features a stainless steel pan for added durability.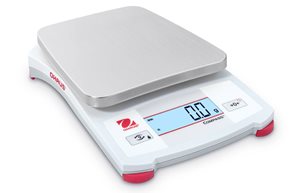 Designed with energy efficiency in mind, the Compass CX series offers impressive battery life of up to 1,000 continuous hours,* allowing for uninterrupted operation. Compass can operate for 250 days (assume operated four hours per day) – which equates to roughly one year of use on a single set of batteries! This level of energy efficiency is simply unmatched in the weighing industry. And this lower power consumption is not only environmentally responsible, but also quite cost effective as the three AA alkaline batteries needed to power the Compass CX typically cost about $4.00/€3.50. With such efficiency, you'll save money over the lifetime of the balance. Compass CX can also run on an AC adapter (sold separately).
Compass models range from 220 gram to 5,200 gram capacity. The higher capacity models – 2,200 gram and 5,200 gram – offer readability to 1 gram, while the lower capacity models – 220 gram, 620 gram, and 1,200 gram – offer readability to 0.1 gram.
OHAUS Compass scales are easy to transport, store, and clean. They run efficiently on batteries and consistently deliver the reliable weighing results you've come to expect from OHAUS.
To find the Compass model that's right for your needs, contact your regional OHAUS sales representative.
*Some brands of alkaline batteries may last longer than others.
✨The latest news at Blog.hoasenvang.com.vn, #candientuohaus #hoasenvang #ohaus #oahusscales #ohausweighing news on precision Measuring Equipment and most weighing scales devices, Can dien tu Ohaus all free news and non-profit, Yes.. All purpose serving you is my pleasure. Headquartered in Parsippany, NJ, OHAUS Corporation manufactures an extensive line of weighing scales, lab equipment and lab instruments that meet the weighing, sample processing and measurement needs of multiple industries. We are a global leader in the laboratory, industrial and education markets, as well as a host of specialty markets, including the food preparation, pharmacy and jewelry industries. An ISO 9001:2008 manufacturer, OHAUS lab balances, industrial scales, lab equipment and lab instruments are precise, reliable and affordable, and backed by industry-leading customer support.

OHAUS Compass™ – A Portable Scale with Impressive Battery Life

? [High quality Ads] Hoa sen vang cung cap Can dien tu chinh xac GLS at With genuine products and prices at the edge of the page, YEAH you will be satisfied Cân treo điện tử Hoa sen vàng – Golden Lotus Measuring Equipment, weighing scales news, electronic scale news, load cell news, retail scale news, industrial scale news, …
* Thiết bị hiển thị đo lường
Hello there !