You are viewing the Ohaus weighing news at Golden Lotus Measuring equipment [can dien tu hoa sen vang]

Compact Bench Scales for the Most Complex Industrial Applications
4/30/2020
Ingeniously designed, the Ranger® 7000 industrial compact bench scale offers remarkable precision, durability, speed, and unmatched versatility.
Reliably precise, compact and durable. Ranger 7000 also boasts 10 advanced application modes and a host of available accessories to make it the most versatile compact scale on the market.
Bạn mong muốn tìm kiếm cân công nghiệp chính hãng chất lượng cao hay cân điện tử giá rẻ, hãy cho Hoa sen vàng biết và nhận sự tư vấn nhiệt tình-chu đáo, sản phẩm đều có giá trị và đặc tính riêng của chúng … hãy Gọi ngay : 028 3511 7799 (kinh doanh) hoặc truy cập website: https://hoasenvang.com.vn/shops/ (2023)
For your toughest weighing jobs, there is one compact scale that is always up to the task – the Ranger® 7000 from OHAUS. Ingeniously designed, the Ranger® 7000 industrial bench scale offers remarkable precision, durability, speed, and unmatched versatility with 10 advanced application modes and 15 available accessories.
The adaptable, all-in-one Ranger® 7000 is suitable for a wide variety of material handling and inventory control applications, including weighing, parts counting with auto optimization, percent weighing, advanced checkweighing, animal/dynamic weighing, display hold, filling, formulation, differential weighing, density determination and sieve analysis.
Many application modes eliminate the need for manual calculations as Ranger® 7000 contains a 2,000-item library for data storage of weighing, check, counting, and filling data and 30-item library for formulation and sieve analysis data.
Ranger® 7000 makes precise results a certainty with one-second stabilization time, up to 75,000d or 350,000d display resolution and legal-for-trade certifications. Ranger® 7000 delivers repeatable, precise results with up to 0.1g readability (model R71MHD35) for processing and testing applications where capacity and high-resolution precision is
the standard. All Ranger® 7000 models meet or exceed the Class II / Class III accuracy requirements in accordance with NIST Handbook 44 and Canada's Weights and Measures Regulations.
Advanced Features Take Industrial Weighing to the Next Level
The first thing you notice about Ranger® 7000 is the large, high resolution display. The 4.3-inch/109mm, full- color graphic screen with user-controlled brightness and SmarText 2.0 software offers advanced functionality that makes setup and operation intuitive with minimal training. Ranger® 7000 runs on AC power or rechargeable battery (sold separately).
Multiple connectivity options, including standard USB and RS232 (included) and an optional third port of RS232 or Ethernet (accessories sold separately) makes data transfer and storage simple. Ranger® 7000 comes equipped with the largest memory library of any OHAUS compact industrial bench scale. Ranger® 7000 also comes equipped with GLP/GMP data output with real time clock to help meet traceability and compliance requirements.
Ranger® 7000's connectivity ports are for more than just data storage and transfer. Through the RS232/USB/Ethernet, barcode scanner, and available label printer, a complete inventory control system can be set up through a single scale. This is a remarkable feature that really sets Ranger® 7000 apart. Material handling and inventory control operations become more efficient with the Ranger 7000, especially with the barcode scanner and label printer. Six print templates can be customized to suit your needs.
Safety features are equally abundant. Ranger® 7000 includes checkweighing lights with selectable operation and audible signal settings, as well as a stability indicator, adjustable leveling feet, and overload/underload indicators. Additional design highlights include selectable operating languages, environmental and auto-print settings, brightness settings, auto-dim, auto-sleep, auto tare, and chain tare.
Ranger® 7000 is an extremely durable scale designed to handle heavy-duty use and thrive in rugged industrial environments. It features IP54-rated metal housing, a removable stainless steel platform, and a sealed metal terminal. Construction includes a modular design, die-cast housing, integral weigh below hook, menu lock switch, and level indicator.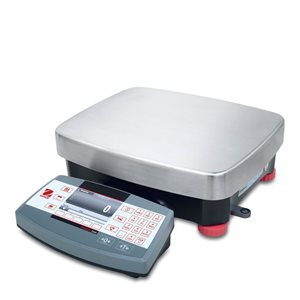 Unmatched Versatility
With so many unique features, plus available accessories, Ranger® 7000 is incredibly versatile. You can easily customize the placement of your scale based on the size and setup of your workstation. Simply separate the indicator from the platform and you can then use the optional mounting kit accessory to mount the scale to the wall or bench. Additionally, you can perform specific gravity tests or weigh items that cannot be easily placed on the weighing platform using the weigh below hook.
For precise results on larger size applications, you can connect Ranger® 7000 with a high capacity floor scale platform or bench scale base using the cable and remote base option. Results from both scale and remote base can be displayed at the same time. Ranger® 7000 can control peripheral devices through the optional Discrete I/O interface (provides 2 input ports and 4 output ports), which can be used for accurate weight measurement in filling and checkweighing applications.
It's durable, precise, fast, and remarkably versatile. That's theOHAUS Ranger® 7000 compact bench scale.
For more information, contact your regional OHAUS representative.

✨The latest news at Blog.hoasenvang.com.vn, #candientuohaus #hoasenvang #ohaus #oahusscales #ohausweighing news on accuracy equipment physics and other weighing machine devices, Can dien tu Ohaus all free news and non-profit, Yes.. All purpose serving you is my pleasure. Headquartered in Parsippany, NJ, OHAUS Corporation manufactures an extensive line of weighing scales, lab equipment and lab instruments that meet the weighing, sample processing and measurement needs of multiple industries. We are a global leader in the laboratory, industrial and education markets, as well as a host of specialty markets, including the food preparation, pharmacy and jewelry industries. An ISO 9001:2008 manufacturer, OHAUS lab balances, industrial scales, lab equipment and lab instruments are precise, reliable and affordable, and backed by industry-leading customer support.

Compact Bench Scales for the Most Complex Industrial Applications

🎁 [High quality Ads] Can dien tu hoa sen vang chinh xac GLS at With genuine products and prices at the edge of the page, YEAH you will be satisfied Cân kỹ thuật Hoa sen vàng – Golden Lotus Measuring Equipment, weighing scales news, electronic scale news, load cell news, retail scale news, industrial scale news, …