You are viewing the Ohaus weighing news at Golden Lotus Measuring equipment [can dien tu hoa sen vang]

OHAUS Valor® Food Scales: The Right Tools for the Latest Food Trends
5/21/2020
Where's the food industry headed in 2020? OHAUS takes a look.
In 2020, we notice a number of interesting trends in the food industry. Chief among them is that even traditional dine-in restaurants have had to pivot to offer take out and/or food delivery service to adjust to social distancing guidelines. Efficient processing, cost control, and food safety are essential to the restaurant business as well as with supermarket order checking. And with contamination of greater concern than ever, it is critical to use scales that are easy to clean. OHAUS Valor®1000 and 7000 food scales are up to the task.
Recent trade surveys indicate a greater emphasis on high-quality, locally-grown, and cultivated ingredients. Consumers are increasingly demanding healthy options and the farm-to-table trend continues to gain steam. Meat alternatives, including plant-based proteins are becoming more prevalent as well. As more casual restaurants look to find ways to serve up healthy meals, while keeping prices reasonable, the demands on commercial kitchens and suppliers increases. They not only need to adjust their inventory, but in doing so, they require the right tools for precision weighing.
Bạn mong muốn tìm kiếm cân công nghiệp chính hãng chất lượng cao hay cân điện tử giá rẻ, hãy cho Hoa sen vàng biết và nhận sự tư vấn nhiệt tình-chu đáo, sản phẩm đều có giá trị và đặc tính riêng của chúng … hãy Gọi ngay : 028 3511 7799 (kinh doanh) hoặc truy cập website: https://hoasenvang.com.vn/shops/ (sản phẩm)
While the food industry continues to evolve, one thing remains constant – the need for accuracy. As any baker will attest, the best ingredients can go to waste without precision measuring. Too much shortening or too little cream could be the difference between scrumptious and inedible. And on the commercial side, precision weighing is every bit as important for inventory and quality control.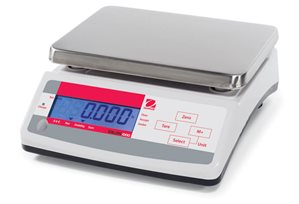 OHAUS Valor® 1000 for Everyday Kitchen Tasks
The OHAUS Valor ®1000 compact bench scale is an economical choice that is well suited to everyday food weighing applications. It offers the functionality to simplify tasks, like food preparation and portioning applications. It features a helpful tare feature to allow for the subtraction of the container weight, used to hold the ingredients for measure. This important feature keeps the scale clean and allows the weight of liquids as well as dry ingredients.
The food safe Valor®1000 scale provides a dependable food weighing solution for dry environments. It is NSF certified and supports a HACCP system. Standard features include two-button operation, large backlit LCD display, and up to 1,500-hour rechargeable battery life.
Valor®1000 features a 1,500 hours autonomy with 4 x type D battery standard included, selectable weighing units, an integrated level bubble and adjustable feet for table top stability. Durable construction incorporates ABS housing, and a removable stainless-steel pan for easy cleaning. Its small size and convenient carry handle make it easily portable.
OHAUS Valor® 7000 for More Complex Tasks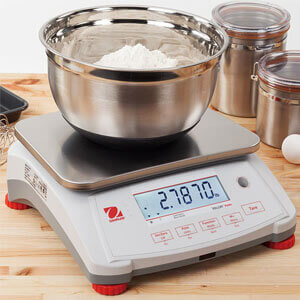 For more demanding applications, the multi-functional top line OHAUS Valor ®7000 bench scales is an excellent choice. This compact food-safe scale is packed with advanced features that will help boost productivity in any food environment.
Valor® 7000 delivers fast, precise, repeatable results in less than one second. Multiple application modes allow for weighing, percent weighing, checkweighing, and accumulation. Easy access communication ports provide easy data transfer and storage through the included RS232, as well as optional USB and Ethernet ports. A second RS232 accessory is also available as an upgrade.
Dual LCD displays allow for multiple users to offer increased productivity. Large, backlit displays allow for easy viewing of results. The Valor®7000 features a user-friendly menu for easy setup and operation. as well as a touchless sensor, transportation handles, menu lock switch, and up front level indicator. Additional features include three LED checkweighing lights with selectable operation and audible signal settings, selectable environmental and auto-print settings, auto shut-off, and auto tare.
The scale runs on AC power or included rechargeable battery that offers 210 hours of continuous use. Durable Valor®7000 is built to withstand tough environments with rugged ABS housing and a stainless steel platform.
Valor® 7000 is NSF-certified, USDA-AMS accepted, and supports HACCP-certified systems — suitable for food applications in dry areas.
For more information about Valor 1000 and 7000 food scales, contact your regional OHAUS representative.

✨The latest news at Blog.hoasenvang.com.vn, #candientuohaus #hoasenvang #ohaus #oahusscales #ohausweighing news on precision Measuring Equipment and other weighing machine devices, Can dien tu Ohaus all free news and non-profit, Yes.. All purpose serving you is my pleasure. Headquartered in Parsippany, NJ, OHAUS Corporation manufactures an extensive line of weighing scales, lab equipment and lab instruments that meet the weighing, sample processing and measurement needs of multiple industries. We are a global leader in the laboratory, industrial and education markets, as well as a host of specialty markets, including the food preparation, pharmacy and jewelry industries. An ISO 9001:2008 manufacturer, OHAUS lab balances, industrial scales, lab equipment and lab instruments are precise, reliable and affordable, and backed by industry-leading customer support.

OHAUS Valor® Food Scales: The Right Tools for the Latest Food Trends

? [High quality Ads] Hoa sen vang cung cap Can dien tu chinh xac GLS at With genuine products and prices at the edge of the page, YEAH you will be satisfied Cân treo điện tử Hoa sen vàng – Golden Lotus Measuring Equipment, weighing scales news, electronic scale news, load cell news, retail scale news, industrial scale news, …
* Thiết bị hiển thị đo lường
Hello there !