You are viewing the Ohaus weighing news at Golden Lotus Measuring equipment [can dien tu hoa sen vang]

Explorer Analytical and Semi-Micro Balances with Auto Door Provide a "Touchless Experience" for Unmatched Safety
4/27/2020
Maintaining safe and sterile environments has never been more important.
Keeping lab instruments clean and free of sample residue is a commonly overlooked source of contamination and inadvertent transfer of materials. An advanced feature on the top-end OHAUS Explorer Analytical and Semi-Micro balances can help greatly reduce the risk of cross- contamination.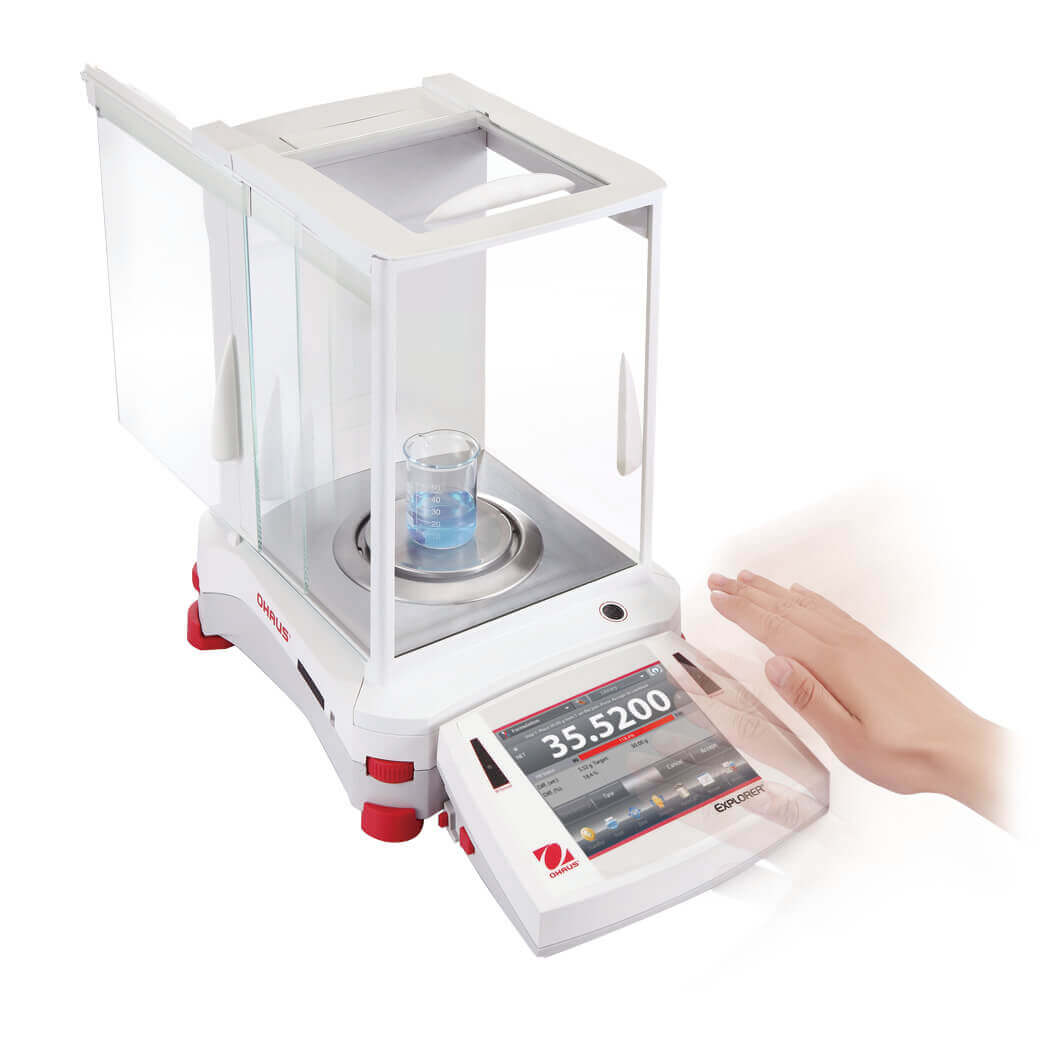 OHAUS Explorer Analytical and Semi-Micro balances provide dependable, high-precision weighing down to the fifth decimal. All Explorer Analytical and Semi-Micro models feature a protective draftshield to create a stable environment free of draft, dust and other potentially disruptive external factors that could impact the integrity of your results. However, reliable precision is not the only concern with laboratory weighing.
Bạn mong muốn tìm kiếm cân công nghiệp chính hãng chất lượng cao hay cân điện tử giá rẻ, hãy cho Hoa sen vàng biết và nhận sự tư vấn nhiệt tình-chu đáo, sản phẩm đều có giá trị và đặc tính riêng của chúng … hãy Gọi ngay : 028 3511 7799 (kinh doanh) hoặc truy cập website: https://hoasenvang.com.vn/shops/ (sản phẩm)
In larger laboratories where multiple equipment is in use and various applications may be taking place simultaneously, maintaining a sterile and clean environment is a chief concern. For example, USP chapter 800 outlines a strict set of operating guidelines for pharmaceutical compounding applications to help ensure worker safety and mitigate the risks of cross contamination. USP chapter 800 focuses on the "receipt, storage, compounding, dispensing, administration, and disposal of sterile and nonsterile products and preparations."
In handling hormones and other sensitive or hazardous samples, safety is a primary concern. Limiting worker exposure and reducing the risk of contamination is critical. In fact, the less lab workers need to touch and interact with equipment, the safer the process as the risk of absorbing chemicals transdermally is mitigated. Reducing worker interaction with equipment also lessens the likelihood of contamination with trace amounts of previously used substances. To that end, OHAUS has rolled out a line of Explorer Analyticaland Semi-Micro balances featuring a unique auto-door feature. The draftshield can be opened "hands-free" with the use of four touchless infrared sensors.
An Ingeniously Practical Feature
The auto-door feature enables a "touchless experience" that helps mitigate the risk of human error in the lab. Typically, when placing a sample on a weighing pan, lab workers are holding a beaker in one hand and perhaps a dispenser in the other. Having to put one down to manually open the draftshield creates the risk for human error, such as drops and spills. The auto-door feature allows for easier access to the weighing chamber as simply passing one's arm or elbow over an IR sensor will activate the auto-door. Upon activation, the draftshield door will slide open smoothly and completely automatically.
In addition to freeing up your hands, this also reduces how often you need to touch the balance. By not having to manually slide the door open and closed with a gloved hand that has been on the counter and handling tools and samples, you greatly reduce the risk of contaminating the balance or the sample being weighed. This helps ensure sample integrity and worker safety, as well as USP compliance.
Unique safety features, reliably accurate and repeatable results, and a user-friendly interface make the OHAUS Explorer balance ideal for laboratory environments. A precision-machined weighing cell and auto-calibration feature allow for fast stabilization times, optimized linearity, and enhanced vibration filtering for the superior precision and reliability you've come to expect from OHAUS. With the addition of the auto-door feature, the Explorer is the safest laboratory grade balance you'll find.
The auto-door feature is available on Explorer balanceswith 0.1 and 0.01 mg readability. For a limited time, OHAUS is offering Explorer models with the auto-door function at no additional cost. Contact your regional OHAUS representative for details.

✨The latest news at Blog.hoasenvang.com.vn, #candientuohaus #hoasenvang #ohaus #oahusscales #ohausweighing news on accuracy equipment physics and all weighing balance devices, Can dien tu Ohaus all free news and non-profit, Yes.. All purpose serving you is my pleasure. Headquartered in Parsippany, NJ, OHAUS Corporation manufactures an extensive line of weighing scales, lab equipment and lab instruments that meet the weighing, sample processing and measurement needs of multiple industries. We are a global leader in the laboratory, industrial and education markets, as well as a host of specialty markets, including the food preparation, pharmacy and jewelry industries. An ISO 9001:2008 manufacturer, OHAUS lab balances, industrial scales, lab equipment and lab instruments are precise, reliable and affordable, and backed by industry-leading customer support.

Explorer Analytical and Semi-Micro Balances with Auto Door Provide a "Touchless Experience" for Unmatched Safety

? [High quality Ads] Can dien tu cong nghiep chinh xac GLS at With genuine products and prices at the edge of the page, YEAH you will be satisfied Cân siêu thị Hoa sen vàng – Golden Lotus Measuring Equipment, weighing scales news, electronic scale news, load cell news, retail scale news, industrial scale news, …
* Thiết bị hiển thị đo lường
Hello there !