You are viewing the Ohaus weighing news at Golden Lotus Measuring equipment [can dien tu hoa sen vang]

OHAUS Scout™ – A High-Performance Portable Balance with a Touch Screen
8/11/2020
When it comes to portable balances, you want the convenience of easy storage and transport, plus durability and reliable precision. This is why you trust OHAUS Scout for your weighing needs.
Whether you are equipping a laboratory, classroom, or commercial space, you know can trust OHAUS for all your precision weighing needs. From high capacity bench scales to precision lab balances, OHAUS weighing instruments offer applications suited to a wide range of industries and applications. One of our most impressive products is the Scout STX.
Bạn mong muốn tìm kiếm cân công nghiệp chính hãng chất lượng cao hay cân điện tử giá rẻ, hãy cho Hoa sen vàng biết và nhận sự tư vấn nhiệt tình-chu đáo, sản phẩm đều có giá trị và đặc tính riêng của chúng … hãy Gọi ngay : 028 3511 7799 (kinh doanh) hoặc truy cập website: https://hoasenvang.com.vn/shops/ (sản phẩm)
These portable, electronic balances are geared for superior performance with fast stabilization time and high resolution weighing results. Loaded with advanced features, yet simple to operate, Scout STX is a great option for your portable weighing needs. Scout STX has many incredible features, beginning with its most remarkable – a large, color LCD touchscreen display.



This unmatched capability offers user-friendly guidance at every step of the weighing process. Results are easy to read, the icon driven menu is user-friendly, and applications are simple to navigate. Portable balance operation has never been easier, faster, or as intuitive as with the OHAUS Scout with touchscreen display.
Toggling between application modes, changing weighing units, and executing setup and calibration functions are as simple as tapping on-screen icons. Scout STX's touchscreen also features a real-time clock function to keep accurate time even during power loss, as well as GLP/GMP tracking capabilities to assist in data reporting and monitoring.
Enhanced Productivity
The versatile Scout STX offers a number of features to help deliver repeatable, reliable results in your weighing operations. Advanced weighing technology allows for one-second stabilization time for increased productivity and efficiency.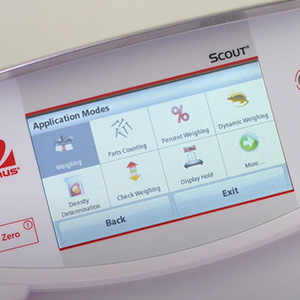 Nine application modes include weighing, parts counting, percent weighing, check weighing, dynamic weighing, totalization, density determination, display hold, and mole weighing. Scout STX also includes a detachable, stowable hook for weigh below applications. Additional Scout STX features include a stability indicator, mechanical and software overload/underload protection, low battery indicator, auto shut-off, auto tare, and span calibration mass (included on models up to 620g capacity).
Expanded connectivity options, including RS232, USB host, USB device, ethernet and Bluetooth,® allow for versatile data collection and transfer, as well as remote functionality. Using the available Bluetooth® accessory, you can remotely control the balance from your Android™ mobile device or tablet and perform functions such as zero, tare, print, power off and more. With the USB host option, you can simply save and transfer data from the balance to a USB drive.
Scout STX can operate for six hours on four AA batteries, or using the included AC adaptor plug.
The Scout series of portable balances are lightweight, stackable, and portable making them ideal for settings where multiple units are needed. The slim design and included protective cover allow for easy stackable storage.
Built to Last and Easy to Clean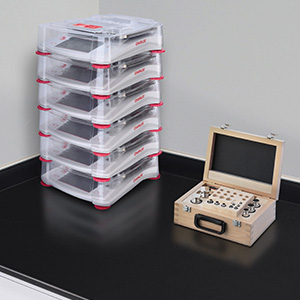 Scout STX also features an integrated overload protection system rated at 10 times capacity to protect the balance in rugged environments. Adjustable feet offer additional stability at your workstation. A stainless steel pan, impact-resistant pan support, transportation lock and included protective cover make Scout STX as durable as it is innovative.
The removable steel pan and water-resistant ABS body make Scout STX easy to clean and the stacking and storage cover offers additional protection when the balance is not in use.
Scout STX models with .001 readability are available with maximum capacity from 120 to 220 grams. These milligram models come equipped with an easily removable draft shield to offer additional sample protection in rough environments. The .01 readability models are available with 420 to 2200 gram maximum capacity and .1 readability models are available with 420 to 6200 gram maximum capacity. A 1 gram model offers 8200 gram capacity.
If cost is a consideration, there are lower priced Scout models to consider. The SKX and SPX offer the same precision and portability, but without some of the advanced features and LCD touch screen. Available in a range of capacities, there's a Scout model just right for your portable weighing needs.
To find the Scout model that's right for your needs, contact your regional OHAUS sales representative.
Learn more about the Scout STX
✨The latest news at Blog.hoasenvang.com.vn, #candientuohaus #hoasenvang #ohaus #oahusscales #ohausweighing news on accuracy equipment physics and the weighing control devices, Can dien tu Ohaus all free news and non-profit, Yes.. All purpose serving you is my pleasure. Headquartered in Parsippany, NJ, OHAUS Corporation manufactures an extensive line of weighing scales, lab equipment and lab instruments that meet the weighing, sample processing and measurement needs of multiple industries. We are a global leader in the laboratory, industrial and education markets, as well as a host of specialty markets, including the food preparation, pharmacy and jewelry industries. An ISO 9001:2008 manufacturer, OHAUS lab balances, industrial scales, lab equipment and lab instruments are precise, reliable and affordable, and backed by industry-leading customer support.

OHAUS Scout™ – A High-Performance Portable Balance with a Touch Screen

? [High quality Ads] Can dien tu cong nghiep chinh xac GLS at With genuine products and prices at the edge of the page, YEAH you will be satisfied Cân sàn điện tử Hoa sen vàng – Golden Lotus Measuring Equipment, weighing scales news, electronic scale news, load cell news, retail scale news, industrial scale news, …
* Thiết bị hiển thị đo lường
Hello there !