You are viewing the Ohaus weighing news at Golden Lotus Measuring equipment [can dien tu hoa sen vang]

Guardian™ Hotplate Stirrers with Smart™ Features Ensure Safety
6/30/2020
OHAUS products are designed for utmost safety in the lab.
While hotplate stirrers are one of the most commonly used tools in the laboratory, scientists express concern regarding safe operation, especially when unattended for periods of time. Unit failure can result in failed experiments, damage to a laboratory, or even personal injury. Such accidents can be avoided when you select the right hotplate stirrers that come equipped with built-in safety features. The ability to monitor and detect potential hazards before they occ

ur is an essential feature of OHAUS hotplate stirrers.
For labs that value safety, affordability, and durability, OHAUS Guardian™ Hotplate Stirrers are an excellent choice. Renowned for precision, OHAUS Guardian series also features basic and advanced safety features to protect against lab accidents.
Bạn mong muốn tìm kiếm cân công nghiệp chính hãng chất lượng cao hay cân điện tử giá rẻ, hãy cho Hoa sen vàng biết và nhận sự tư vấn nhiệt tình-chu đáo, sản phẩm đều có giá trị và đặc tính riêng của chúng … hãy Gọi ngay : 028 3511 7799 (kinh doanh) hoặc truy cập website: https://hoasenvang.com.vn/shops/ (sản phẩm)
Guardian SmartPresence


By designing hotplate stirrers with redundant safety features, OHAUS offers efficiency as well as safety. SmartPresence™ and SmartLink™ provide auto-detection and shut-off functionality that safely prevents unattended, overnight operation.
Guardian SmartLink


Hotplate Stirrers with Smart™ Safety Features
Designed with outstanding safety features and superior heating and stirring performance, the OHAUS Guardian™ Series Hotplate Stirrers allow you to modernize your lab. Guardian™ Hotplate Stirrers offer exclusive Smart™ intelligent performance features to help modernize and lower the cost of operating a science lab.
Guardian SafetyHeat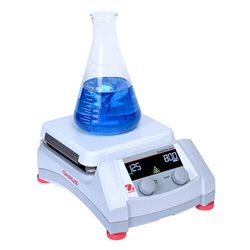 Featuring SafetyHeat™ and SmartHousing™ technology, Guardian™ 5000 Series Hotplate Stirrers promote lab safety with features designed to reduce the chance of accidents. The affordable, mid-tier Guardian™ 5000 models are suitable for everyday heating and stirring applications in research, academic, and industrial environments. They come in a variety of sizes to meet your application needs.
The SafetyHeatTM internal protection system offers dual monitoring of system health. If the unit detects a potential problem, SafetyHeatTM will shut down the heating function and alert the user before an overheating condition occurs. Chemical-resistant SmartHousing™ channels spills away from sensitive internal components and remains cool to touch at high temperatures, safeguarding lab operators. The digital display also features an easy-to-see hot top warning indicator.
Guardian SmartHousing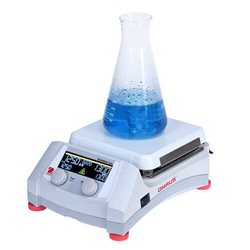 For more complex, scientific laboratory settings, the top end Guardian™ 7000 Hotplate Stirrers come equipped with additional advanced Smart™ safety features, including SafetyPresenceTM, SmartLinkTM, SmartHeatTM, and SmartRateTM. SmartPresence™ technology utilizes an infrared proximity sensor to recognize when a user is nearby, and shuts off the unit if no one is detected. SmartLinkTM detects if the Bluetooth® link is broken and will safely shut off the heating function. The OHAUS app offers mobile phone connectivity for remote monitoring of the Guardian 7000 with additional safety functionality. SmartHeat™ and SmartRate™ ensure precise sample control by enabling selection of measured temperature and speed ramp rates.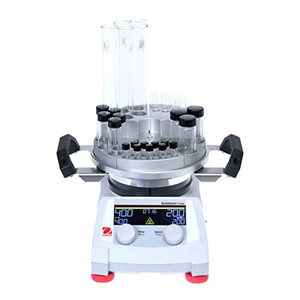 Guardian™ 5000 and 7000 Hotplate Stirrers offer powerful, consistent stirring performance. Precise stirring from 60 to 1600 RPM is made possible by the design of a powerful motor, strong magnet and software controlled ramp rate ensuring secure magnetic coupling for viscous applications.
Guardian™ Hotplate Stirrers are built with high quality components, promising durability and reliability. There are eight models and over 40 accessories to choose from to suit your specific application.

✨The latest news at Blog.hoasenvang.com.vn, #candientuohaus #hoasenvang #ohaus #oahusscales #ohausweighing news on accuracy equipment physics and most weighing scales devices, Can dien tu Ohaus all free news and non-profit, Yes.. All purpose serving you is my pleasure. Headquartered in Parsippany, NJ, OHAUS Corporation manufactures an extensive line of weighing scales, lab equipment and lab instruments that meet the weighing, sample processing and measurement needs of multiple industries. We are a global leader in the laboratory, industrial and education markets, as well as a host of specialty markets, including the food preparation, pharmacy and jewelry industries. An ISO 9001:2008 manufacturer, OHAUS lab balances, industrial scales, lab equipment and lab instruments are precise, reliable and affordable, and backed by industry-leading customer support.

Guardian™ Hotplate Stirrers with Smart™ Features Ensure Safety

? [High quality Ads] Can dien tu Ohaus chinh xac GLS at With genuine products and prices at the edge of the page, YEAH you will be satisfied Cân siêu thị Hoa sen vàng – Golden Lotus Measuring Equipment, weighing scales news, electronic scale news, load cell news, retail scale news, industrial scale news, …
* Thiết bị hiển thị đo lường
Hello there !